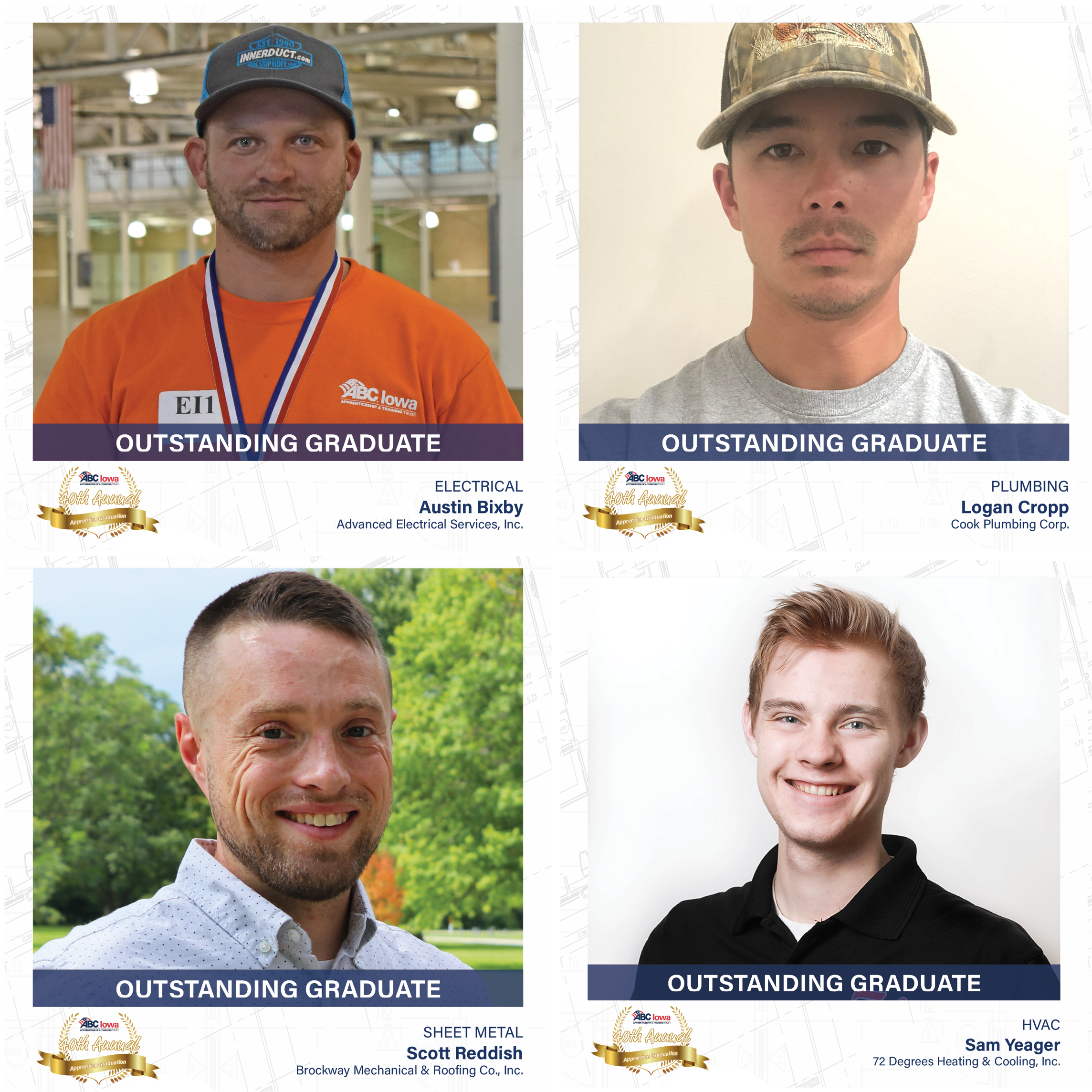 Local apprentice recognized as one of four graduates to receive top honors
GRIMES, Iowa (June 9, 2020) —Associated Builders and Contractors of Iowa (ABC) virtually recognized 314 students as 2020 graduates of the association's apprenticeship program. The graduates completed 576 hours of classroom training and 8,000 on-the-job training hours. Among this year's graduates, ABC honored four with the Outstanding Graduate Award.
The Outstanding Graduate Award is given to the exceptional apprentice in each trade. Each of these graduates was nominated by an instructor based on attendance, attitude, effort, grades, participation and for going above and beyond.
"Being named an Outstanding Graduate is an incredible honor for these four apprentices, they should be very proud of their hard work and determination," said Ginny Shindelar, ABC's vice president of education & training. "These students not only earned high grades, but they've consistently demonstrated their remarkable character and skills."
The Board of Trustees selected one graduate from all of the instructor's nominations to represent each trade to be an Outstanding Graduate for 2020.  The winners are:
Austin Bixby – Electrical, Advanced Electrical Services, Inc. (Iowa City)
Sam Yeager – HVAC, 72 Degrees Heating & Cooling, Inc. (Ankeny)
Logan Cropp – Plumbing, Cook Plumbing Corp. (Des Moines)
Scott Reddish – Sheet Metal, Brockway Mechanical & Roofing Co., Inc. (Burlington)
ABC of Iowa is the leader in apprenticeship training for the construction industry in the state. Their program practices the earn-while-you-learn philosophy. Apprentices can work full-time during the day and attend class one evening a week. They are able to graduate with little to no debt and are able to take their licensing exams once they have finished their requirements.
###
Associated Builders and Contractors of Iowa is a non-profit construction trade association that boasts the largest construction apprenticeship-training program in the state. With more than 540 member firms statewide, ABC fosters the principles of freedom of choice through the merit construction philosophy. ABC members build commercial buildings, industrial plants, municipal and public works projects, roads and highways, homes and provide an array of construction services. For more information, visit www.abciowa.org or www.abciowatrust.org.