TRADE UP
TO A CAREER IN CONSTRUCTION
With little to no debt, you can secure paid on-the-job training and develop a highly-desired skill set in these construction trades.

Statewide Careers
 BLUE:  Contractor-Member Locations    YELLOW:  ABC of Iowa Training Centers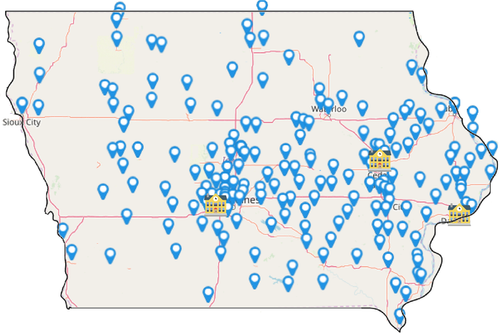 A firm foundation. 
Skilled laborers are essential workers, their skills are valuable and necessary, and are in high demand.
High school students can find options outside of accumulating massive college debt - and become a journeyman in 4 years (on average).
 Work during the day, attend class at night. 
ABC apprentices are hired and employed by ABC of Iowa members and work full-time during the day and attend class one evening a week or 4 days per month.

 Little-to-no debt. 
Many graduate with little-to-no debt and take their licensing exams once they have completed their requirements.


How does apprenticeship training work?
    STEP ONE     
Apprentice must first be hired by an ABC of Iowa member company.
Search a listing of ABC of Iowa members here.
    STEP TWO    
ABC of Iowa member company enrolls student into the ABC of Iowa Apprenticeship Training program.
  STEP THREE   
Apprentice attends daytime or evening classes (timing chosen by their employer/member company).
 Daytime "Institute" Training 

Daytime classes meet for 3 months, 4 consecutive days a month.
Monday - Thursday from 8:00 a.m. to 4:30 p.m.
Fall Session: October - January
Winter Session: February - April/May
 

 

Evening "Traditional" Training

 

Traditional-style evening classes meet once a week, for 26 weeks.
This format is 26 in-seat classes that are 4 hours long.
Classes start at 5:00 p.m., 5:15 p.m. or 5:30 p.m.
   STEP FOUR   
Apprentice works for the employer and earns paid on-the-job training (OJT) hours.
    STEP FIVE     
Meet the following graduation requirements:
Complete all 4 program levels
Work 8,000 documented OJT hours
Show OSHA-10 proof of completion
... and celebrate your graduation!
     STEP SIX      
Apprentice now qualifies to take the Journeyman Exam in their field of study, and can keep moving up from there.
 
---
QUESTIONS?
Contact Tyler Mosier at 515-985-1176.