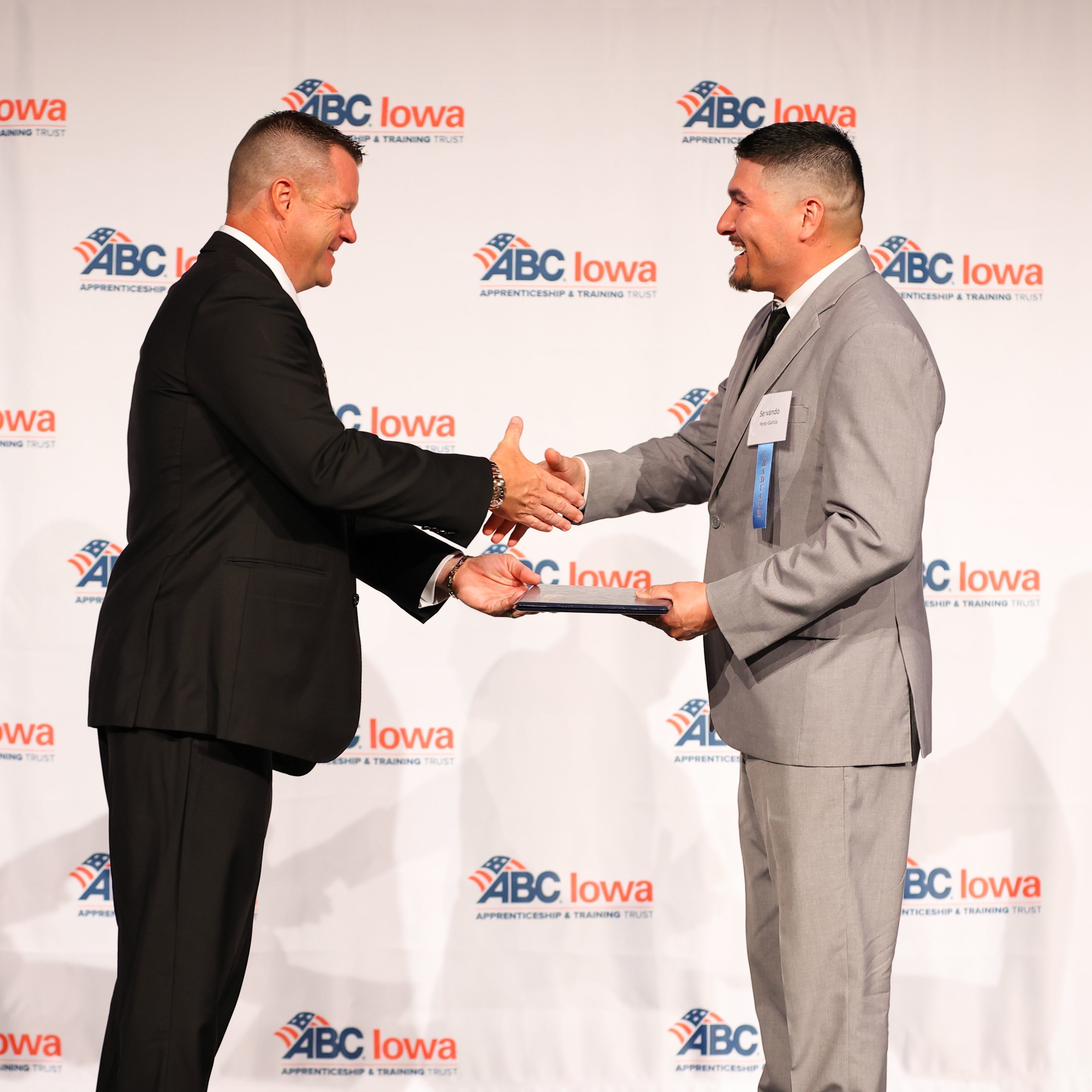 It's that time of year again – the end of the school year. For many students across the country, springtime marks a special shift in their lives, graduating and moving on to the next challenge.
For more than 270 apprentices enrolled with ABC of Iowa, that monumental achievement was recently recognized in front of friends, family, employers and others in our annual graduation ceremony.
We're really proud of all the hard work and dedication these graduates have shown through their education at ABC. We know the past year has been particularly challenging with COVID protocols and yet, these students have shown their resiliency and commitment to their education.
Our apprentices completed 576 hours of classroom training and 8,000 on-the-job training hours.  Through ABC of Iowa's program, students are taught proper safety courses and specific skills in the areas of electrical, plumbing, HVAC, sheet metal, millwright, insulation, laborer and electronic systems.
At our graduation ceremony that was held in June, we also recognized four graduates with "The Outstanding Graduate Award." Each of these graduates was nominated by an instructor based on attendance, attitude, effort, grades, participation and for going above and beyond and it's given to the exceptional apprentice in each trade.
The Board of Trustees selected one graduate from all of the instructor's nominations.  The winners were:
Evan Schlesselman — Electrical: Timm Electric, Inc. (Victor, Iowa)
Joel Jollymore —HVAC: Commercial Services Innovation, Inc. (Bondurant, Iowa)
Jordan Stoecker — Plumbing: Professional Plumbing Service, Inc. (Fairfax, Iowa)
Dillon de Perrot — Sheet Metal: Brockway Mechanical & Roofing Co., Inc. (Burlington, Iowa)
Being named an Outstanding Graduate is an incredible honor. These students not only earned high grades, but they've consistently demonstrated their remarkable character and skills.
ABC of Iowa is the leader in apprenticeship training for the construction industry in the state. Our program practices the earn-while-you-learn philosophy which means apprentices can work full-time during the day and attend class one evening a week. They are able to graduate with little to no debt and are able to take their licensing exams once they have finished their requirements. This year, we finished the year with more than 1,340 apprentices total.
Summer break always goes quickly and we are already planning for our next school term which will begin in August. It will be great to welcome back returning apprentices as they continue on their path with us and seeing new faces. We hope you'll join us.